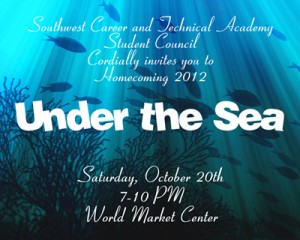 The SWCTA StuCo members are hosting the 2012 "Under The Sea" themed homecoming on Oct. 20 from 7:00 p.m. to 10:00 p.m. at The World Market Place in the Fountain Foyer.
"This year's theme and location is better than last year's homecoming, which will result in everyone having a jolly good time," StuCo junior Alexis Kenney said.
Because this is a semi-formal homecoming event, casual jeans and sneakers are not permitted. Students are encouraged to consider the theme when choosing their outfit.
"I don't want to say exactly what I'll be wearing but all I can say is that it is going to match the theme of the dance. I think it would be best if everyone dresses up along with the theme just because I think it makes everything prettier," Fashion Design junior Samantha Umpaiboon said.

Loading ...
Tickets will be sold for $30 during first and second lunch starting on October 10. If you purchased a discount card from a StuCo member, you will receive a $5 discount. On the day of the homecoming dance, tickets prices will be raised to $35 at the door.
"We purchased only 500 tickets for this year's homecoming and our goal is to sell out every single ticket," StuCo junior Sebastian Atienza said.