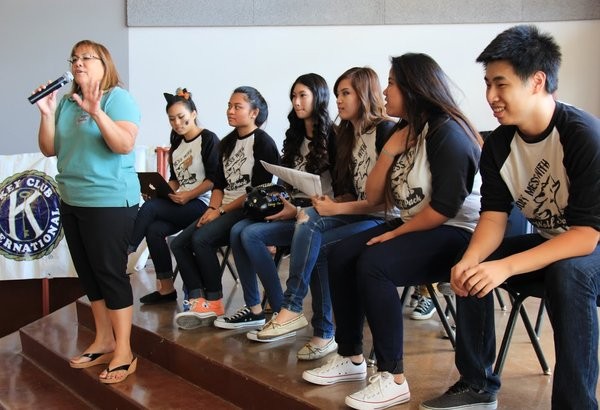 The first Key Club meeting of the year was held on Sept. 4 and took place in the cafeteria from 2 p.m. to 4 p.m.
"This year, we are hoping to see a lot of freshmen join our club and stay for the full four years, but we are also very excited to welcome back our returning members," Secretary Desiree Galera said.
The meeting was geared towards newcomers to give them information about the club and what the requirements are to become a member. Board introductions were established, along with events and community service opportunities that are available to the members throughout the year.
"For the most part, it was just the board explaining what Key Club is and introducing ourselves, but we also taught everyone the basic cheer "How Do You Feel" and hopefully that got everyone excited to yell and be a part of the icebreaker," Vice President of Spirit Cailin Lopez said.
All students can become a member of Key Club as long as they pay the required membership fee of $11.50. The money given is donated to Key Club International and the California-Nevada-Hawaii District.
"In years past, we've made the membership fee $25 which included a t-shirt, but this year we made buying the t-shirt optional. Only the members who are planning to go to the Regional Training Conference (RTC) must buy the t-shirt," Vice President of Community Service Kimberly Yiv said.
In order to be inducted, members must attend one community service event the club organizes a month, participate in at least two fundraisers, attend all scheduled meetings with the exception of three unexcused absences, and complete 50 hours of community service by March or April.
"One of our major goals for this year is to induct as many members as we can. Last year we had 85 members and the ceremony was a blast. Hopefully, the club shows the same amount of enthusiasm, if not more about getting inducted," President Lichelle Gaerlan said.
RTC will be held on Sat., Oct. 18 at Centennial High School from 8 a.m. to 3:30 p.m.
"Our goal for RTC this year is to bring home the spirit stick and if possible, also win the division spirit stick," Vice President of Fundraising Ghaylbreann Ferraer said.