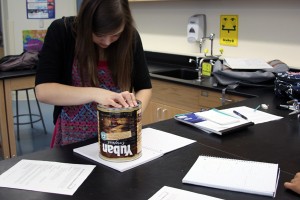 Juniors and seniors in Mrs. Elizabeth William's physic's class performed the Circle Diameter Lab to explore different graphical methods on Sep. 5. This LabQuest activity involved students inputting data into the LabQuest device to verify the accuracy of their measurements.
"The new technology is great! It will really benefit the students by allowing them to learn how to input their own data to create a graph," Williams said.
The objectives for this lab were to practice entering data into the LabQuest device and to test how close their measurements were to the actual answer. The analysis software, LabQuest, is a powerful tool that assisted the students in their analysis of graphs and the experimental data.
"I'm really excited about this lab because students were able to prove a complicated math statement on their own," Williams said.
The materials given to them were six different circular objects, such as small plastic cups to large coffee cans, which were used to sketch six different sized circles and record the diameter of each. They were also given a string in which they used to measure the circumference of the circles, in inches, after tying the string around each circle.

Loading ...
"Learning about graphical measures requires a keen eye of observation," junior Joanna Joseph said.
Overall the Circle Diameter Lab was a success. Students were able to create data tables, input data, and create a linear graph without using any mathematical equations. This lab was a great introduction to Williams's physic's class for the 2012-2013 school year. Next students will be learning about displacement, velocity, and speed and will also be able to distinguish between the concepts of speed and velocity.