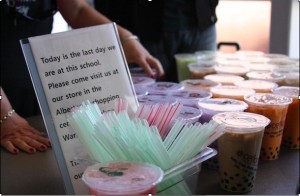 Numerous vendors at Southwest Career and Technical Academy will not be returning to sell food to the students effective immediately. They were dismissed during a self-assessment by the school, when it was discovered that the suppliers were not on the CCSD approved snacks or beverage list.
"Outside vendors have to go through an approval process through the CCSD Food Service department. [The vendors] were not on the list and we asked them to submit their product to the food service department for approval," Assistant Principal Michael Butler said.
The food vendors that were cut through the process were Raising Canes and Cefiore. Panda Express was dismissed due to an incident involving possible cross contamination with peanuts. Qdoba was able to stay, but only to sell tacos. Their burritos did not meet the nutritional guideline.
"Panda [Express] brought us regular income in every week to help fund expenses for the club. It allowed my kids not to have to fundraise, so they could worry more about their studies than the extracurricular fundraising issue to keep the club solvent," HOSA advisor Mrs. Vicki Smith said.
Vendors did meet the nutritional guideline for CCSD, which is why they were able to sell on campus initially. They will now have to find different vendors that are on the CCSD approved list. Dismissed vendors will be able to return to SWCTA if they apply to be an approved seller and are verified by the district.
"It's really annoying that we don't have as many vendors. That's how I used to always eat my lunch and now I don't eat lunch at all," junior Jessica Wolf said.
Students will still be able to buy school lunches or Qdoba, which will continue to be sold on Tuesdays. Subway is also now available for purchase on Mondays and Wednesdays.