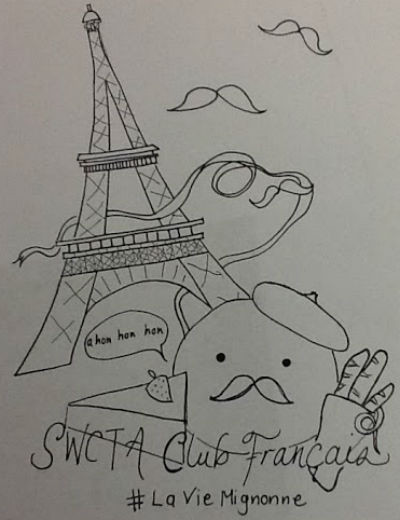 At last week's meeting of the French Club, members discussed future fundraising and participated in t-shirt designing.
"Everyone had great ideas for shirt designs, so it was cool to see whose won," sophomore Iris Zervoulakos said.
French Club President Precious Galang, collected t-shirt designs and members voted on their favorite.
"The process for designing the shirt was actually really interesting and quite fun," sophomore Brandon Azar said.
The best two t-shirt designs, sketched by Gabrielle Fernandez and Zervoulakos, were then combined to create the club t-shirt.
"I was really happy to hear that my design was chosen for our shirts," Fernandez said.
Although the group's idea of having a movie night was denied, due to the legality of charging to view a film, they have decided to sell crepes instead. French Club plans to use the fundraiser as a way to defray the cost of the club trip to Paris, France.
"We expect to sell crepes from the 18th-20th of December," Galang said.
Additionally, French Club will continued discussing how to increase fundraising efforts before the school year ends, so they have extra money in their bank account.
"I can't wait to see the final product of the shirts and being able to see other people wearing them, it's a cool experience," said Fernandez.