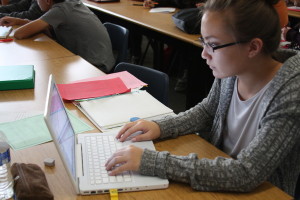 Mrs. Laura Penrod's Freshman Studies classes came in second for the district-wide bullying campaign contest. Students worked in groups of four to five to create their own bullying campaign by designing a video, t-shirt, or a poster to communicate their campaign idea.
"I think its incredible. It's amazing to see how creative our school was and I love the fact it was for a good cause too," freshman Sophia Zaman.
The radio station, 98.5 KLUC, partnered with Flip The Script to hold this contest. The winner of the competition received a free concert that would be held at their school. Del Sol High School won first place.
"I'm kind of disappointed, especially because we worked on it for a long time," freshman Mayra Valdez said.
This contest was open to all schools in Las Vegas.

Loading ...
"I'm very proud of how hard the Professional Academy freshmen worked on their Anti-Bullying Campaigns for the Flip The Script Challenge. It is a great accomplishment that they were able to secure a 2nd place win out of all the schools that submitted for the challenge. To me it's a 1st place win considering how many schools competed," said Freshman Studies teacher Mrs. Laura Penrod