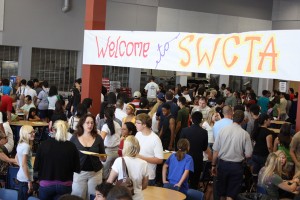 Southwest Career and Technical Academy held the second annual "New Student Open House/Orientation" on Saturday, August 21. Freshmen and new students had the opportunity to tour the school, view their class schedule, pay course fees, and peruse the various club booths, including DECA, HOSA, and Key Club.
Some returning sophomores and juniors came to assist the SWCTA faculty in welcoming students, guiding tours, or recruiting for their respective club.
"Seeing how excited the new students were made me even more excited for the school year, " said returning sophomore Jennifer C.
Teachers used this opportunity to meet their students and work on plans for the new school year.
"I enjoyed meeting kids and parents in a more casual environment," said fashion design teacher Ms. Cassandra Pawling.
New students had the chance to learn about SWCTA school life through meeting other students and teachers.
"I chose Southwest because I thought it would get me ahead in life," said incoming student Kennith S.