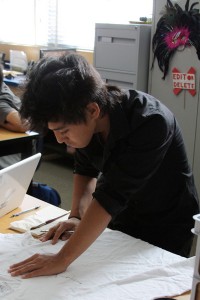 On Oct. 12 and 13, Mrs. Laura Penrod's Freshman Studies class began their Flip The Script bullying Project. The students who submit their anti-bullying campaign to Flip the Script and are selected as first place will win the grand prize: a school-wide concert sponsored by the radio station 98.5 KLUC.
"Flip the Script is a bullying awareness organization that focuses on the prevention of bullying on and off campus. I am getting students involved in this project to increase their knowledge of bullying as well as help them be more positive towards peers," Penrod said.
To qualify for the Flip the Script contest, students will need to create t-shirt designs, two other campaign ideas to hand out, and a slogan to advertise. Their anti-bullying campaign must focus on one of the five types of bullying: indirect, physical, intimidation, social alienation, and cyberbullying.
"My group and I created a t-shirt design that advertised our slogan and our two other campaigns involve little hand-outs like bracelets and lanyards," freshman Kimberly Yiv said.
Last year, a freshmen group from SWCTA won the grand prize and as a result, 98.5 KLUC and Flip the Script brought the band Hot Chelle Rae to perform live in the gym. This year is another opportunity to have a popular band play at SWCTA.

Loading ...
"Having an assembly to watch a band play in the gym would be so cool! I really want my group and I to win so we can say that we won the grand prize for everyone to enjoy," freshman Tim Jauregui said.
Presentations for the students' campaign will take place on Nov. 13 and Nov. 14.