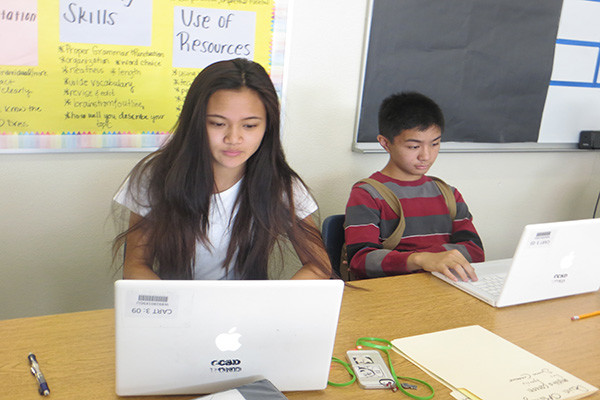 Students in Mrs. Laura Penrod's Freshman Studies course have been given a campaign based PBL. Students must raise awareness about a chosen teen social issue that was discussed over the course of the third quarter.
"The topics that we were allowed to our campaign on are judgment, bullying, texting and driving, anti-drug use, anti-drinking, teen suicide and teen depression. My group decided to do 'judgment' because it is a broad enough topic that has several points that can be easily covered. Judgment is also the basis of a lot of bullying and harassment so our campaign will be based around that," freshman Eric Merrifield said.
Even though many projects done in Freshman Studies are often group based and the students are given the opportunity to choose their own groups, the groups this project were chosen by Penrod. Each group had four to five people.
"I decided choose the groups because of the topics we're discussing. If I allowed the students to choose their groups and be with their friends there would be an automatic exclusion because a few will be left out it and that in a sense is indirect bullying, something I'd like to avoid," Penrod said.
Penrod has added several new components to this project. The students must choose between three components that are either a social media page, PSA, awareness website, flyers/posters, online petition to stop the problem, electronic poster/banner for a website, lunch table tent, banners for school/public, or a commercial.
"It's not a requirement for the students to implement their campaign, all I want to know is how they would if they were but I've been told that some groups are choosing to go out and show their video to classes. I think that'll be really interesting," Penrod said.
Different from what freshmen completed last semester with a required PSA and a short class presentation, Penrod has decided to take it a step farther and have the students present their campaign to several classes in the form of a gallery walk. With that in mind, some have chosen to go out and implement their campaigns either at their local middle school or during the health classes at the school.
"I think this PBL will be a great opportunity to bring awareness to the school about a specific cause that's happening to a lot of people. Also, I think that it would allow students to help stand up for what they think is a problem," freshman Solina Ngin said.