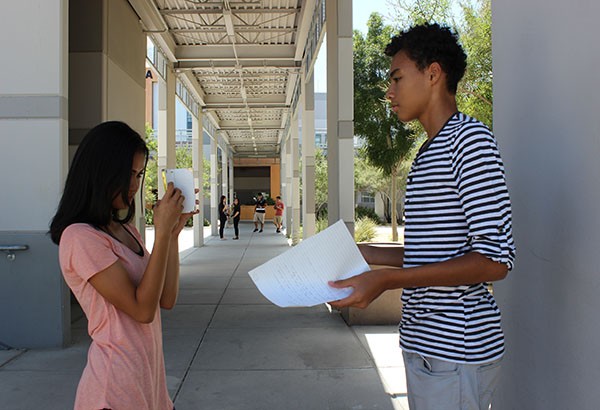 The freshmen currently enrolled in Mrs. Laura Penrod's Freshman Studies course were assigned a project to use social media applications, Instagram and Vine. Students were required to create a skit that showcased what they believed their assigned tenet meant.
"My goal is to incorporate more technology in educational ways this year," Penrod said.
The assignment required students to define the tenet that they received in their own terms in a six to 15 sec. video. The six tenets are content knowledge, work ethic, use of resources, teamwork and collaboration, professional communication and writing skills.
"Doing this project has helped me understand what all my teachers expect from me in terms of grading my work," freshman Alexandra Canaverala said.
Their own original concept of the tenet were then documented using Vine or the video feature on Instagram to represent their assigned tenet and how it could be applied in a classroom setting. Students were allowed to use the campus to film their skits.
"I want the students to be creative but be able to use the technology that they like as well," Penrod said.
The freshmen were separated into pairs or groups of three to work on the project. Presentations will begin this week.
"I think the most important tenet is teamwork and collaboration, because it gets us to work with other people," freshman Isaiah Scovilla said.