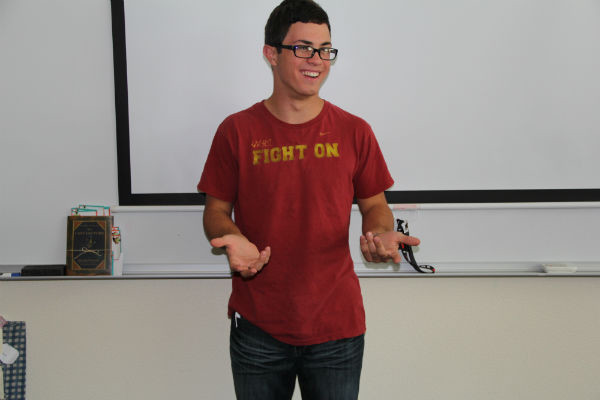 While presenting to the class, students in Mrs. Laura Penrod's freshman studies class gave "elevator pitches," a 30 to 60 second persuasive speech that was memorized and could be given in the time it takes an elevator to reach the next floor.
"It helps them with their presentation skills forcing them to not rely on notes. It gets them in a role to speak in front of their peers," Penrod said.
The pitches could be on any topic, such as Harry Potter or the man with the biggest size shoe, as long as the topic was school appropriate.
"Basically it is a speech which lasts 35 to 50 seconds where you have to convince someone to buy your product," freshman Sara Rounaque said.
A note card was not allowed to be used and students were docked points if their speech was not at least 30 seconds, if it was more than 60 seconds, and if a note card was used.
"We had from last Thursday and then the weekend to memorize it until today. It's nerve wracking to have to memorize it from the top of my head, but I'm excited to see how I do," freshman Alyssa Tiangco said.
Students also had the option of dressing professionally for extra credit.
"It's a good project because we get to know each other and how we feel about certain topics. It's fun getting to know my peers," freshman John Faccinto said.