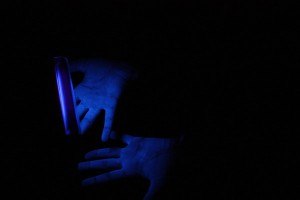 The freshmen in Chef Linda Burns eighth period Foundation of Hospitality class learned how to wash their hands properly by completing the glow germ experiment to identify how much bacteria and germs are on their hands.
"I think its a good thing that the students got to experience this because it gives them an idea of how germs can get into other peoples food if they don't wash their hands correctly," senior Danielle Kohr said while helping construct the experiment.
The experiment required students to rub Glad germ powder all over their hands. Once they had a thin layer of the flaky substance on their hands, they then checked their skin under a blue light to see how many germs were present.
"I was surprised to see how many germs I had on my hands! I thought I washed my hands well, but I guess I was wrong," freshman Rachel Martinez said.

Loading ...
After washing their hands for two minutes with soap and warm water, they tested their hands under the light once more.
"I still had germs on my hands, but it wasn't as bad as it was when I first saw it in the light," freshman Ghaylbreann Ferraer said.