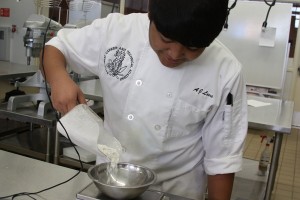 The junior and senior Culinary students in Food and Nutrition I recently prepared gingerbread houses that will be displayed at Opportunity Village as a part of the annual Magical Forest. The Magical Forest provides nightly entertainment and vibrant decorations for all ages to assist Opportunity Village in raising money for people with disabilities.
"It was exciting to make something related to the holiday season. This project really challenged our creativity," junior Alexsander Love said.
Culinary Arts Program Leader Chef Linda Burns, assigned students to groups of four and gave them three weeks to assemble their own gingerbread house. The students were supplied with icing and limited candy decorations.
"It was fun to create something out of nothing and make it the best I can make it," senior Mary Richen said.

Loading ...
Currently, the culinary program has contributed four gingerbread houses to Opportunity Village.
"It was cool to do something different that wasn't for an event. It was nice to donate them to Opportunity Village," junior Adam Emmenegger said.