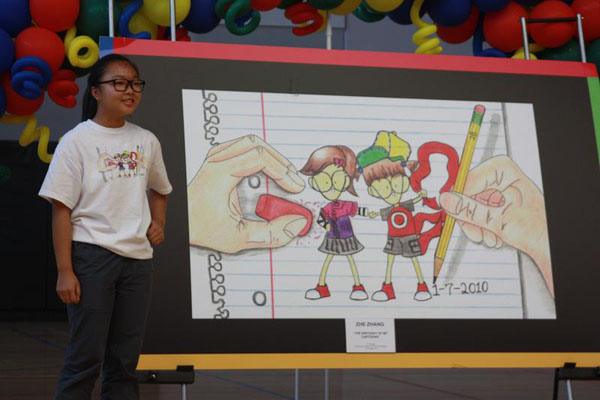 An assembly was organized on May 1 to announce sophomore Zhe Zhang for being one of the ten national finalists for this year's Doodle 4 Google contest. The theme was "My Best Day Ever…"
"I created my own cartoons Bu and Tu. Since then, I started using these characters to tell my life stories with my sister and express my thoughts," Zhang said.
During the assembly, two Google representatives came to present their improvements to existing features. Some of these features included Google Maps and Google Plus. During the assembly, the guest speakers explained how Google works, and that after 14 years of activity, the company continues to advance.
"I'm hoping to win because then not only would I receive a scholarship but my school will win prize money as well," Zhang said.
If Zhang wins the competition, she will be awarded a $30,000 scholarship. In addition to that, the school will be awarded a $50,000 technology grant. As part of winning for her state, Zhang and her family earned an all expense paid trip to New York where the national winner will be announced on May 22.
"I'm very excited to get to go to New York, it will be my first time there," she says.
Students are encouraged to vote for her. Only one student per state is selected as a finalist. This is Zhang's second year competing after making the top 100 last year.
"I'm very excited and happy, this encourages me to keep doing art and work harder," sophomore Zhang said.
Students were able to create a sketch that could be used for the Google homepage. The competition is an annual submission of drawings from students K-12.
"I want to thank the people who supported me and voted for me," Zhang said.

Loading ...