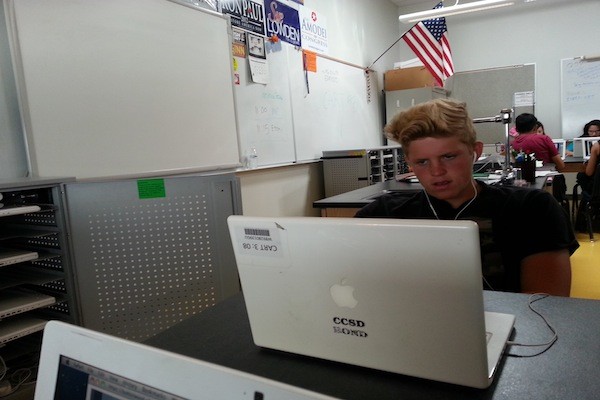 Today, seniors in Mr. Adam Cegavske's U.S. Government class began preparing themselves for financial success by participating in the three week course, EverFi, an education technology company that specializes in teaching, accessing, badging and certifying students in critical life skills that they will use after high school.
"The objective is to complete all 10 modules online during class before the due date. Students may work at their own pace and can do the course outside of school if they want," Cegavske said.
In order to complete the course in full, students must finish the 10 modules, which includes: Overview, Savings, Banking, Credit Score, Renting vs. Owning, Consumer Fraud, Investing, Taxes and Insurance, Financing Higher Education, Payment and Interest Rates, and Credit Cards.
"Today we started doing EverFi and I am actually learning a lot! The material that this course is teaching me will definitely help after high school because I am deciding to move out and pay my own bills," senior Eric Feldman said.
This course interacts with students through videos, animations, 3-D gaming, avatars, and social networking to help students learn various financial concepts. The topics covered in EverFi include: credit score, insurance, credit cards, taxes, investing, saving, 401Ks, and mortgages.
"I honestly was not looking forward to doing this during class but the videos and animations keep me engaged and I am finishing the lessons quicker than I expected," senior Sheridyn Fitch said.
EverFi is approximately a six hour program, plus simulation. Students are required to have completed the course by May 23 because it is a federal government sponsored program. Once EverFi is completed, students will be certified in digital literacy.
"EverFi is going to make a huge difference in our lives after high school because I had no idea about interest rates or credit cards until now. I plan on living by myself eventually and knowing these skills will assist me on my journey to adulthood after high school," senior Cassadie Medall said.