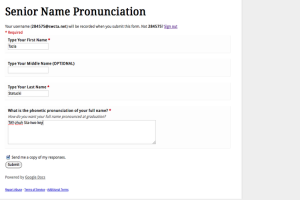 In order for names to be pronounced correctly at graduation on June 12, seniors must complete a Google form with the phonetic pronunciation of their name by May 25, at 1:30 p.m.
To access this form, students will need to log in to their First Class/Interact account. Administration has distributed each graduating senior a link to the form. The form takes less than a minute to fill out and only requires first name, last name, and phonetic pronunciation that clarifies the proper enunciation of the name.
For example, the phonetic pronunciation of Tazia Statucki is "Tay-zhuh Sta-two-key." For help with creating a name's phonetic pronunciation, visit http://inogolo.com/. Some longer names may need to be broken down into syllables.
"Failure to complete this survey may impact how you are introduced at graduation," Mr. Craig Statucki, community partnership coordinator, said in the email sent to seniors.
If there are any questions, please contact either Mr. Statucki, Mrs. Miriya Julian, or Ms. Elena Clavel.