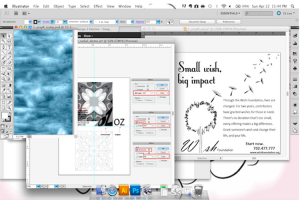 Next school year, Graphic Design II will be offered as an elective for those who wish to continue the curriculum. Mrs. Debra Tomme, Graphic Design and Computer-Aided Drafting and Design teacher is teaching the class.
"Students were asking for Graphic Design II. Also, there is not enough time to do high-end designs during Graphic I," Tomme said.
The elective is open to students who have completed Graphic Design I. Tomme hopes to improve the students' skills. The class will learn more Adobe Illustrator and Photoshop, completing professional projects, incorporation of program projects, and other activities. Students' input on which assignment they want to do will also be considered by Mrs. Tomme.
"I want to encourage Fashion, Interior, and Engineering to take this elective," Tomme said.
Students like William Zheng, junior, are looking forward to taking the class next year. He hopes to use his knowledge of Graphic Design as a step closer to becoming an architect.
"Graphic Design is about rendering ideas and designs, which is important for architects," Zheng said.
If you have any questions about the elective, ask Tomme, in room D118, to learn more about Graphic Design assignments.