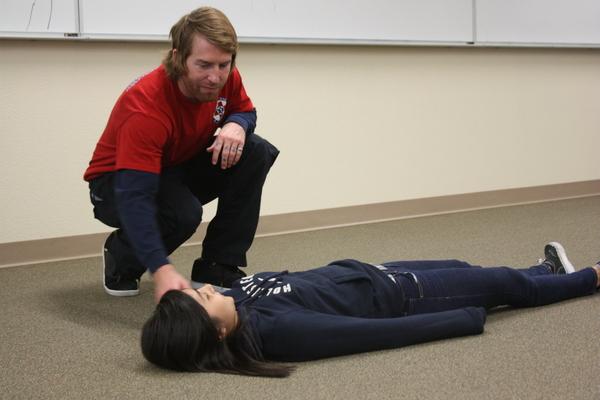 Freshmen in Mr. Mark Bly's Health course completed their CPR (Cardiopulmonary Resuscitation) training on Jan. 31, where they learned how and when to use this procedure. They were also taught how to wrap a wound or broken limb in case of an emergency.
"It was an easy and fun way to learn procedures to use during emergencies when someone is in danger. Overall, it was a great experience," freshman Sophia Zaman said.
In order to participate in the CPR training sessions, students were required to pay a $15 fee. The fee covers the two-year certification card that students will receive when they complete the testing components at the end of the sessions.
"It is very helpful to learn CPR and the other techniques just in case someone needs help," freshmen Danielle Frahm said.
Two CPR certified professionals demonstrated life saving techniques to the class. After the two-day training session, students were given a written test and skills test concerning the different steps of CPR on a mannequin. If they passed both tests, they received their CPR certification.
"A CPR card is very useful and it looks very good when someone is getting a job as babysitter, or lifeguard," Bly said.