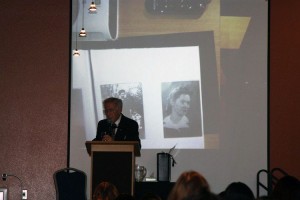 On May 9th, 2012 Holocaust survivor, Ben Lesser, spoke to 9th grade design academy students about his experience surviving the Holocaust and rebuilding his life in America. Freshman Studies Teacher, Mrs. Laura Penrod and 9th Grade Design English Teacher, Mrs. Stacy Grossman, are teaching a Holocaust unit cooperatively in their classes for 4th quarter.
Lesser is a current Las Vegas resident who created the Zachor Holocaust Remembrance Foundation with his family. When Lesser was a young boy in Poland whose life and existence was turned upside down when he went from living a happy life with his family to being forced to leave his life and live in the ghetto. Soon after he moved, Lesser was transported to Auschwitz.
"The presentation was very informative and life altering. When Ben was talking, I was able to picture myself being in the Holocaust and going through the life changes he went through," freshman Alex King said.
During Lesser's speech, he displayed a few photographs of his family and a variety of torture tools that were used by Nazis on other Jews, including himself. Lesser spoke about his terrifying experience in Auschwitz with vivid detail, including his serial number 1212 he had to wear on a string around his neck everyday and was no longer identified with a name; he was simply number 1212.
"The thing that Ben said that stood out the most to me was when he described how he had to watch others, some which he knew, be beaten to death," freshman Zachary Bourbeau said.