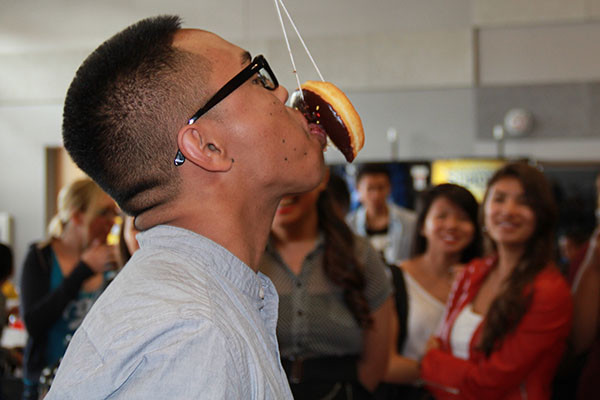 Today students and teachers participated in the first day of Homecoming Spirit Week, Greaser Day. Everyone was encouraged to dress up in 50s apparel, such as leather jackets, denim capris, white or black shirts and Converse.
"I really enjoyed dressing up for Greaser Day! I enjoy the leather jacket and converse look because the 50s are coming back," senior Naylani Pino said.
Along with Greaser Day, student council members held a "doughnut-on-a-stick" challenge that involved two students from the same grade attempting to eat a doughnut off of their end of the stick. The person that ate the doughnut the fastest was declared the winner.
First lunch winners:
Sophomore Elison Cahatol
Junior Charles Cruz
Second lunch winners:
Freshman Rashid Washington
Junior Dwight Tan
Senior Kevin To-ong
"It was embarrassing, but also surprisingly challenging, even though it was awkward to eat a donut off of a stick with someone on the other end of the stick doing the same thing," To-ong said.
Homecoming tickets are still being sold during both lunches this week for $35. Tomorrow is Tacky Tourist Day which means students can wear khaki capris, flowery button up shirts, fanny packs and sunscreen.
"I am so excited for Tacky Tourist Day! I can finally pull out all the lame clothes I use for camping," junior Kaitlin Eure said.
Also, Student Council is proud to announce this year's homecoming court nominations:
Lord nominees
Kevin Peace, Srirachat Gampit, Theo Buna
Lady nominees
Lindsey Zangler, Audrey Forbes, Alyssa Chavez
Duke nominees
Colton Fitzgerald, Naod Haile, Timothy Binder
Duchess nominees
Michaela Ruzol, Shaelyn Dieter, Nicole Overman
Prince nominees
Konstantin Aleksandrov, Jonathan Jackson, Isaiah Macala
Princess nominees
Karlee Aragon, Carly Taylor, Alyssa Ocampo
King nominee
Sebastian Atienza
Queen nominees
Kennedy Rosek, Cassie Daniels, Bonnie Lei
Two nominees have dropped out of the running to be elected Homecoming King.