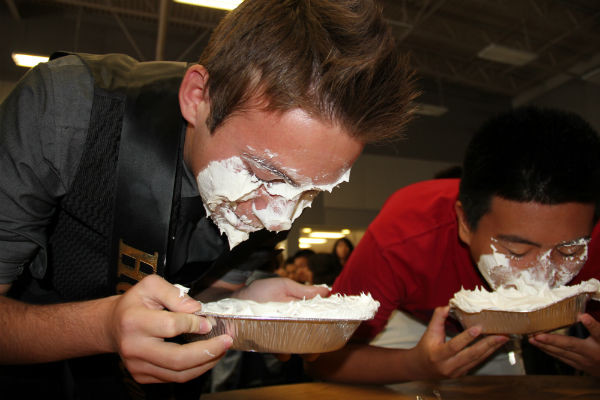 For the third spirit day, Dapper Day, girls represented flappers and guys were gents as they dressed up in fancy dresses and suits from the 1920s.
"I was very excited for Dapper Day, because I got to break out the pearls and red lipstick. This spirit day felt like a great success," senior Mariah Holmes said.
Lunch activities continued today with a challenge involving students eating whip cream from a pie to reveal a piece of bubble gum, which they then had to use to blow a bubble before anyone else in order to win.
First lunch winner:
Freshman Diamond Wimberly
Second lunch winner:
Junior Christian del Rosario
"I'm so happy I won the lunch activity! The only reason I participated was to win the Starbucks gift card and I did! I would do anything for Starbucks," Rosario said.
Voting for Homecoming Court continues is taking place first and second lunch for free. Tomorrow is Celebrity-Look-Alike Day so students should dress like a celebrity that resembles them.
"I am excited to see everyone's reaction when I dress up like Kim Kardashian," sophomore Emily Yu said.