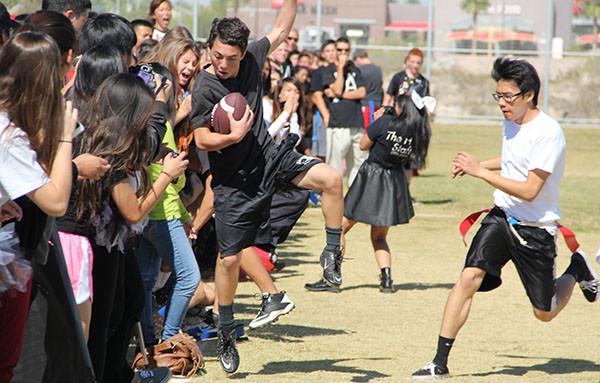 At the PA vs. DA flag football game, the DA girls won with a score of 12-0. For the first time in three years, the PA boys defeated the DA boys with a score of 12-6.
"Finally the PA boys won! I knew it!" sophomore Phuong Chau said.
Additionally, Student Council announced this year's homecoming court:
Lord Kevin Peace and Lady Audrey Forbes
Duke Naod Haile and Duchess Michaela Ruzol
Prince Isaiah Macala and Princess Alyssa Ocampo
King Sebastian Atienza and Queen Kennedy Rosek
"I honestly didn't think I would win. I wasn't expecting my name to be called, that's why I looked so surprised," sophomore Naod Haile said.
At halftime, the cheerleaders put on a performance along with a dance performed by teachers Mrs. Jennifer Brant, Ms. Mary Flores, Mrs. Shannon Bailey, Mr. Jason Orapello, and Mr. Jonathan O'Brien. Also, the homecoming nominees were put through a challenge in which they had to dress themselves in XL swim trunks, flowery button ups, a visor, and take ten pictures on a disposable camera.
"The flag football game was so much fun to be in. Even though the PA girls lost, I still want to do it again next year!" sophomore Hye Woo said.
Students and teachers wore colors such as copper, brown, and black for Extreme School Spirit Day.
"I love how school spirited this school gets. It's a lot different here than at any other school since we don't have sports. We go all out," sophomore Brittany Grossi said.
Also, today's relay race concluded Student Council's lunch activities. The girls had to apply makeup on the boys and dress them up, and from there, the boys had to hula hoop and drink three Capri-suns. The pair that finished first was declared the winners.
Winners:
Charles Cruz
Kathleen Jaictin
"I'm very competitive, so doing these types of school activities is always a fun thing for me," Cruz said.