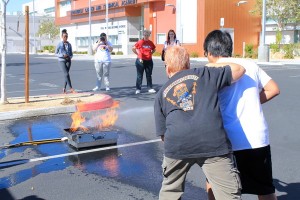 Community Emergency Response Team instructors Page Spencer and Rick Dieboid taught 32 HOSA members how to be prepared for different types of disasters last weekend.
"CERT is dedicated to helping the community if a disaster were ever to occur. The program aims to train civilians so that they are prepared for and natural disaster and attack," sophomore Jordyn Morici said.
Students participated in hands on activities such as the assessment of injured people and learning how to splint a broken arm.
"During the CERT program we were taught how to rescue
victims in dangerous situations, treat injuries and learning how to comfort people in stressful situations," sophomore Segen Goitom said.
After going through CERT training, students have the knowledge to help their family and community when they are hurt and during disaster situations. At the end of the program, participants were issued a certificate of completion.
"CERT taught me steps and processes that I can go through to help my family in the event of an earthquake, a tornado violently ripping through town or any disaster," sophomore Rodney Tan said.