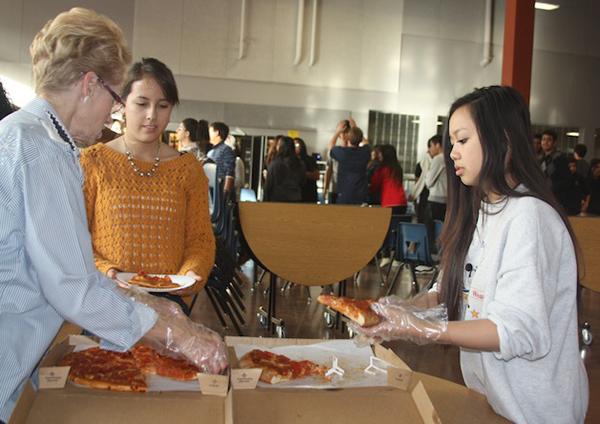 On Tuesday, Dec. 17, HOSA hosted their annual holiday party. Unlike the traditional potluck they held for Halloween, they decided to host to a pizza party, instead.
"A pizza party seemed easier and more simple. We didn't have to worry about keeping food afterwards, if people didn't finish it or take it back," club president Rayden Sisomphou said.
The holiday party included games and activities– such as musical chairs and making snowflakes. The club members rotated from game to game, spending a few minutes at each activity.
"Musical chairs was my favorite. It was an awesome experience for everyone to come together and have fun. It was cool seeing shy people break out of their shell," sophomore Sophia Zaman said.
After the games ended, the pizza was ready to serve. Members lined up according to whether or not they paid three dollars prior to the holiday party. They were served two slices of pizza, either cheese or pepperoni, with pink lemonade.
"Every holiday party should be like this. Everyone that paid, got food and the people who didn't pay, didn't get any food at all, which was fine," sophomore Jonas Tambora said.
The holiday party ended with a raffle. Once all the food was served, a few lucky students were called up to choose from syringe pens, a dream catcher, a scented jar candle, or a HOSA luggage accessory.
"Overall, the pizza party was better. It was more cohesive, everybody cooperated much better, we had more activities, and it was more organized. We only served pizza, instead of having a potluck where people would be picky," club reporter Carlo Miciano said.