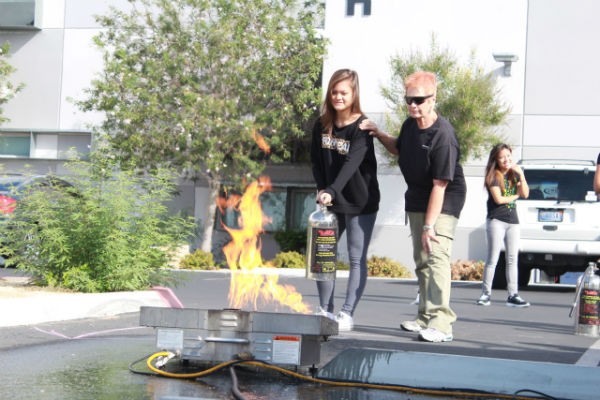 A two-day, 15-hour Community Emergency Response Team (CERT) training event was hosted on Sept. 19-20. This event was open for participation by Health Occupations Students of America (HOSA) members only.
"CERT is an amazing program that every HOSA member should attend because even if they are not competing at state or nationals, they can still learn basic skills that are needed in everyday life or if they are planning on going into the medical field," HOSA parliamentarian Alejandra Sataray said.
Roughly 40 students attended this event and were grouped into three teams: Search and rescue, fire safety and medical assistance. The skills that they learned were then tested when the members were expected to apply them in specific role plays.
"Me, Mrs. Vicki Smith and other volunteers pretended to be victims. We pretended that we were unconscious and had broken legs. The trainees then had to follow what they were taught during the training and treat it as if it was a real life disaster," HOSA photographer Cecilia Romero said.
This event prepared the club's members for their upcoming state leadership conference in March and raised awareness on the proper medical procedures to take during natural disasters, medical emergencies and more.
"CERT training is beneficial not only for helping the community, but for enhancing our abilities. Once you take this training, all the dangers around you become more prominent and you become more aware," Romero said.
HOSA members who could not participate in the event can attend the next CERT training event, which will take place in early 2015.
"Because I had experienced CERT prior to this year, I had an understanding of how helpful and wonderful this program is. It's such a beneficial program that everyone should be a part of," junior Sophia Zaman said.