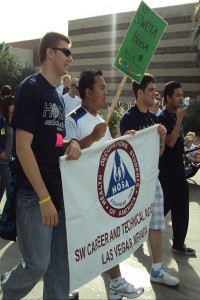 On November 6, 2010, students at Southwest Career and Technical Academy participated in a walk to raise money for a cure for diabetes. The walk was held at the University of Nevada, Las Vegas. The schools own Health Occupation Students of America members, led by Mrs. Vicki Smith, attended to help the cause, along with SWCTA students that are not members of HOSA.
"I came at eight in the morning because I was so excited for the walk," said sophomore Jerrica Obillo.
Registration began at nine in the morning, and the walk started an hour later. Between the time of registration and walking, there were many tents set up to advertise different products such as Jamba Juice and AT&T.
"The music was all country, they needed a better DJ!" said junior Ryan Lopez.
102.7 The Coyote played the music throughout the event.  There was also a live performance by an unknown local band.
"I really wasn't tired after the walk, but I was hungry.  The vegetarian sandwich was pretty tasty," said sophomore Josephine Baltazar.
The walk, which was five kilometers, lasted about two hours, depending on how fast participants walked. After finishing the walk, Jason's Deli gave away sandwiches to those that had registered.
"I had a lot of fun walking and hanging out with my friends.  It was a plus that we were helping for a good cause," said Baltazar.