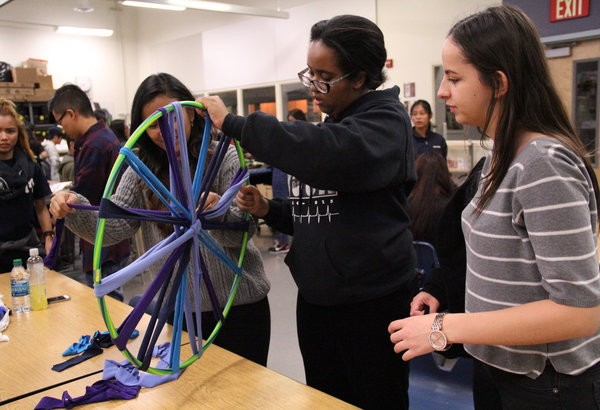 Future Health Professionals (HOSA) organization sponsored "Night Without A Home" on Nov. 21 from 7 p.m. to 12 a.m. as part of National Hunger and Homeless Awareness Week.
"This event is beneficial for students because it allows them to understand how homeless individuals live their lives in the cold. While making scarves and mats, they give back to the community and to individuals without a home, food and water," Vice President of Nev. HOSA Kelly Siu said.
Students who attended the event filled out a form as well as provide one case of water bottles to donate to The Salvation Army.
"The students will experience what it is like to live like a homeless and see what struggles they go through everyday in order to survive," President-Elect Krystal Chaidez-Saucedo said.
The event offered various activities for students to participate in, such as making scarfs and mats for the homeless, listening to speakers about programs and learning about future volunteer opportunities. Finally, a film about homelessness was shown at the end of the event.
"I think that not having a home is a really hard condition to live in because it doesn't supply good sanitation and ventilation. As someone who is more privileged, I find that this is a great way to help those less privileged," junior Ivan Barlongo said.