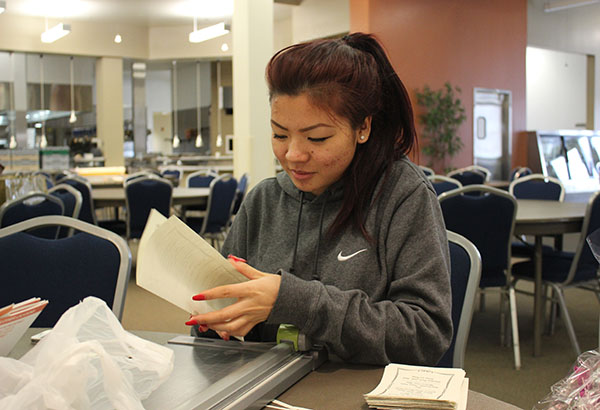 The hospitality and culinary senior class will be hosting their senior capstone event, Inspire Gala, on Feb. 24 in the Coyote Ballroom from 5:30 p.m. to 8 p.m. Co-hosted by Carlos Corrales and Miss Teen Nevada Geovanna Hilton, all proceeds raised from the event will be donated to Three Square Food Bank.
"I will be attending the event and I am most excited for the dinner," Dean Trish Taylor said.
The event will include a three-course meal, live entertainment and a silent auction for guests to win a variety of gift baskets. The chamber orchestra and four piece jazz band from Durango High School, as well as an opera singer from Coronado High School, will be performing at the event. In addition, 20 fashion design seniors will be hosting a fashion show during the "Mocktail Hour" to entertain the guests.
"Among other items, we will be serving Spanakopita, a greek pastry made with spinach. The chefs chose the menu because they wanted it to be simple, elegant and classy," Hospitality Program Leader (PL) Chef Linda Burns  said.
The cost of the ticket is $150 for each plate and $1,000 for a table of eight. These tickets can be purchased by emailing [email protected]. Approximately 100 people will be attending this event, including local politicians, business professionals and influential members of the community. Hilton will also be present at the event.
"She [Hilton] was recently crowned as Miss Teen Nevada and her platform is hunger. So when she found out we were hosting an event to benefit Three Square, she contacted us and [we] decided to partner up," Burns said.
The final goal is to raise $10,000 for the organization, which is enough money to provide approximately 30,000 meals for Southern Nevada.
"Selling tickets was probably the hardest part of doing this project, but we sold enough to tickets to fill the room," senior Mia Salomon said.
Three Square Food Bank's mission is "to provide wholesome food to hungry people, while passionately pursuing a hunger-free community." To purchase tickets or donate, please contact Audrey at [email protected].
"I'm excited to dress up for the event, but I'm mostly looking forward to see how it all turns out," senior Audrey Nicolas said.