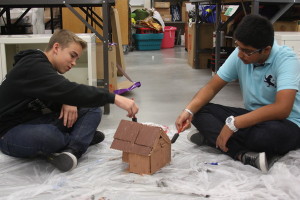 From glue and pre-cut designs to sticks and mud, Interior Design Program Leader Mrs. Alisa Sirat's sophomore students began designing their own models of American Indian styled homes based on various tribes such as the Aztecs.
"It was fun since I was finally able to use what I learned in previous lessons," sophomore Rae Alfonso said.
By taking a look at the homes created by early American Indians, students are able to understand that these houses solely provided for people's necessities rather than their desires. It also was intended to provide an insight to the climate and resources early American Indians had in the past.
"It was interesting because I was able to learn an assortment of Indian homes and how they lived," sophomore Pauline Nguyen said.

Loading ...
Students are required to create a model to teach the class about their style of American Indian home. Students must also create a short powerpoint presentation with original pictures of their types of houses and information regarding the history of their American Indian styled home.
"I'm impressed with the students' creativity as they use various designs and all kinds of materials," Sirat said.