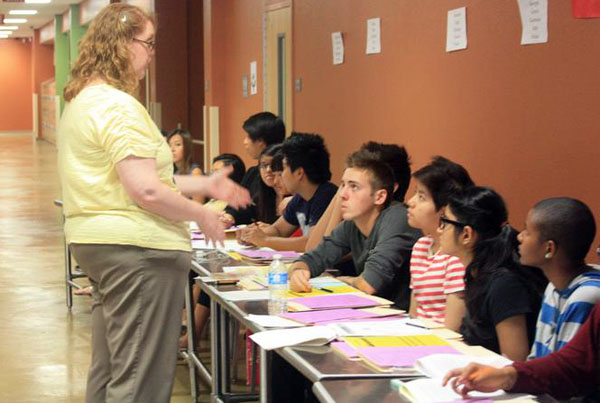 Regular and Honors World History students participated in an International Economic Summit which was held on May 8-9 in the Coyote Ballroom. The purpose of this project was to learn about a country's corruption and how representatives of that country deal with economic issues.
"It was a good experience, but there was a lot of stress and tension in the room," sophomore Dragana Golub said.
Each group of four to five students were assigned a country, and were required to wear a costume that represented the country. Groups were required to decorate a table and bring in any props to represent their country. Additionally, an issue statement was presented in front of the groups.
The purpose of the issue statement was to persuade other countries to economically aid countries in need. In addition to the best issue statement awards, rewards were also given for best tabletop design and best costume.
"We won best issue statement, which was pretty cool, because we worked really hard on it and it is alway nice to see hard work paying off," sophomore Kendra Walton said.
The winner was Australia, whose members scored highest on the written part of the assignment. The group consisted of sophomores Kamryn Cruz, Jenny Danh, Michelle Le, Maryam Ahmed, and Kimberly Raquel.
"It was nice to see someone win, even if my group did not, because I know how much pressure we were put under," sophomore Christian Del Rosario said.

Loading ...