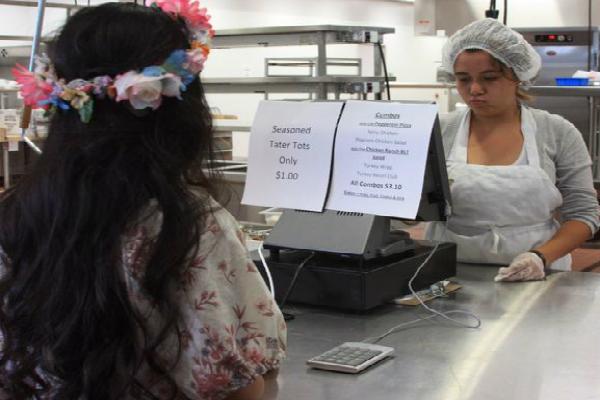 The cafeteria staff is in need of more students workers to work during first lunch or second lunch, two to three days each week. Students will be paid $4.15 per thirty-minute shift.
"The cafeteria employees work really hard to make sure food is made for the students. They need more student workers to help out and make the lunch process easier for everyone," Dean of students Mr. Allen Yee said.
While working in the cafeteria, students will be taking orders, serving the already made food, and giving it to the student. They also set up the kitchen before lunch by placing milk and side options on the counter and clean up the kitchen at the end of their shift.
"It's a great experience for me. It's fun working at the register and talking with new students," junior Vivian Tam said.
The benefits of working in the cafeteria include a free lunch and an extended lunch period to eat their food. Applications can be picked up in Yee's office and turned into an adult cafeteria worker.
"I would love to work in the cafeteria because the job market is very competitive nowadays. Just a few extra bucks can make working in the cafeteria worthwhile," junior Reema Hassanieh said.

Loading ...