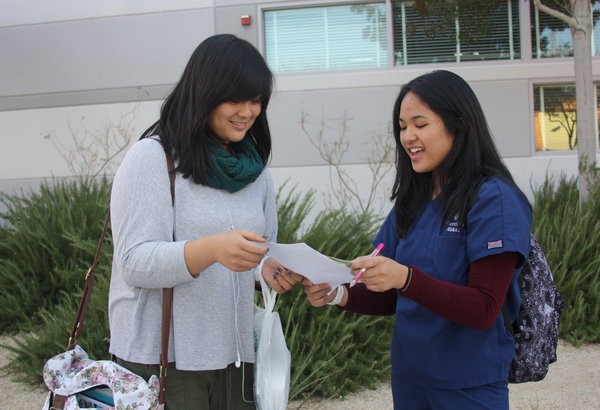 The journalism staff is hosting their first Walk-A-Thon on Nov. 21 in order to raise funds for the Columbia Scholastic Press Association (CSPA) Spring Convention in New York City, N.Y.  and the National Scholastic Press Association (NSPA)/Journalism Education Association convention in Denver, Colo.
"Traveling for national scholastic journalism conventions is expensive, but so valuable for each student who is able to attend. Any penny that we can fundraise to offset the cost of each trip will allow more students to attend," Journalism adviser Mr. Matthew LaPorte said.
Anyone can sponsor a journalism staff member by pledging an amount for each lap completed. Those who choose to pledge also have the option of naming a maximum amount they would like to donate.
"We decided to do a Walk-A-Thon because it's time for a change in fundraising. Selling food or other objects is much more difficult since each person has different preferences," The Howl Business Manager Emily Yu said.
For example, if a journalism student walks 10 laps and a sponsor pays $1 per lap, the total amount raised will be $10. If a sponsor chooses to pay a maximum of $10, any additional laps beyond 10 completed will not be counted.
"I pledged $5 and sponsored my friend because I want to support the journalism staff and send them on their trips, " junior Gierael Ortega said.
Sponsors also have the option of contributing a "lump sum," which is a flat donation of any amount that will not be affected by the number of laps walked.
"I like the lump sum option better because it's more convenient for the person sponsoring," Southwest Shadow staff member Danijel Zekanovic said.
Participants of the Walk-A-Thon will walk around the field from 2 p.m. to 4 p.m. and will not be allowed to run or jog the laps, which are approximately one-third of a mile each. The goal is to raise at least $1000 to divide and distribute to each member for their travel fees.
"Receiving these donations will definitely help in alleviating some of the costs for our trips, since they turn out to be rather expensive. We gain so much knowledge and strategies from these conferences, so I'm really happy that people are willing to support us," Southwest Shadow Management Editor Nikki Molina said.