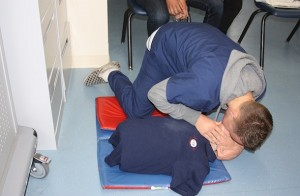 On March 14, 2012 students in the Dental Assisting program participated in a CPR class held by a company called CPR Connections, LLC.
"Medical emergencies can occur at any time in a dental office where people are already stressed about treatment. The personnel need to be trained to handle theses life-threatening emergencies. Also, if the dentist was the only person in the office who was CPR trained, who would help him or her if they had a medical emergency," Dr. Michael Georges, Dental Assisting Instructor, said.
The class was approximately two hours. The CPR instructors covered the steps for doing CPR on all different kinds of patients, adults, children, infants, etc. For some students, this class was a refresher course.
"It was nice to relearn all of the steps. I definitely had questions that I couldn't remember, well because I haven't taken a CPR class since freshman year," Ana Bjelicich, junior, said.
All students who attended the class practiced on dummies, for an adult and infant. They were all awarded a Certification Card, which states that the individual successfully completed the skills of Adult CPR/First Aid/Pediatric CPR/ AED. The Certification will last two years.