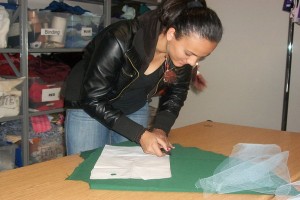 Juniors in the Fashion Design program at SWCTA began their annual Prom Dress Challenge creating formal attire for men and women. Although all juniors will be making outfits, only 15 will be selected to compete in the Junior League competition against other high schools.
"Junior League has been an amazing resource for us; I'm very excited to see the new dress designs this year's juniors will create!" Fashion Design Program Leader Ms. Cassandra Pawling said.
The focus of the challenge is to teach students how to construct a prom dress to fit the body perfectly. They will also learn pattern drafting, fitting, alterations, design, and construction/sewing. Students will be judged based on their creativity and precision.
"Preparing to learn about all the skills I needed to make a prom dress was confusing at first, but I started to get the hang of it after practicing," Dymond Salter Goods said.
Participants are required to create the garment themselves based on this years theme "Into the Magical Forest" with fabric donated by Star Costumes.
"This is the first piece of clothing created by the junior class to fit their body, or a body in general, perfectly. I'm so excited!" Felicia Richardson said.
The prom dress challenge will be presented at The Fashion Show Mall for those that can attend on Saturday, March 2nd. There will also be a fashion show on campus the night before, for those not competing.
"I believe that the participants this year will create really outstanding prom dresses because the students who are entering have such creative minds," Alyssa Ochoa said.

Loading ...
The winner will receive a Prom Party Package that includes a tux rental, a limo, dinner and might also have the opportunity to intern with a local designer.
"I'm so happy that I get to have the opportunity to create a prom dress!" Faith Hartzell.