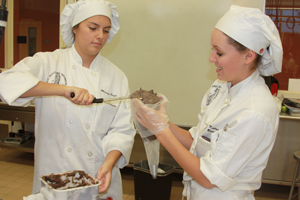 Chef Linda Burn's second period culinary class finished their personalized cupcake displays on Oct. 18, which they were given a month to create. The class was initially divided into six teams, and after their displays were completed, they were judged.
"Even though we were given a month to make the display, in the last couple of minutes I think everyone was rushing," senior Brittany Chopp said.
This project was meant to replicate the hit TV series, "Cupcake Wars." Each year, Burns chooses a new theme for the displays and the students must follow it to their best ability. Last year was Halloween-themed, and this year Homecoming was the chosen topic.
"It was pretty exhausting and tedious work to make all those cupcakes, but at the same time it was fun to make them according to my own sense of style and design," junior Katarina Bussmann said.

Loading ...
One of the requirements that Burns insisted on was that the students use standard recipes, which means using weight to measure the ingredients to make the cupcakes.
"I was especially surprised by the artificial talent that my kids had, and all in all it was a great year, and the cupcakes were delicious by the way," Burns said.