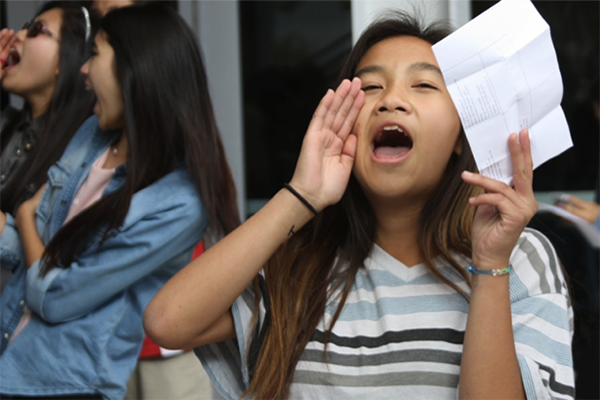 On Thursday, September 26th, Key Club held a boot camp to prepare those who are attending Regional Training Conference.
"We really want to try and win RTC this year, so we want to prepare ourselves, and the members, as best as possible," Vice President of Spirit Desiree Galera said.
"Key clubbers" cleaned up old cheers and learned two new cheers, "Bite" and "Southwest Pride".
"I found 'Bite' really fun to cheer because it had movements that we have never done before, and I found 'Southwest Pride' a little bit challenging at first because it was a bit fast, but once I got the hang of it, I had fun cheering it," sophomore Mary Cabahit said.
The club was divided into different groups to focus on each cheer until they were perfected.
"We were really close last year, so hopefully we win this year. That would be really cool," sophomore Kei Chua said.
Once each group finished practicing, the key clubbers reunited and cheered as a whole.
"I'm pretty sure we're going to win," sophomore Natthinee Wongsavit said.
RTC will be held on Saturday, October 12th, at Centennial High School where every Key Club chapter in Las Vegas will gather, cheer, and compete against each other in spirit battles. Also, there will be workshops to educate members more about Key Club.