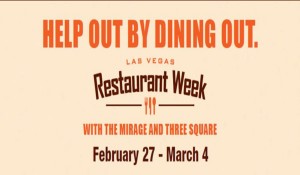 The sixth year of Las Vegas's annual Restaurant Week approaches, providing restaurants in the community a chance to give back through food.
In 2007, Restaurant Week was developed as a way to raise money and awareness for the Three Square Food Bank. During the week of Feb. 27 through Mar. 4, top scale restaurants lower their meal prices. A portion of the proceeds are donated to Three Square, an organization whose main goal is to end hunger in Southern Nevada.
"I like the idea of restaurant week. I believe it goes toward an excellent cause and they always say 'the best way to win someones' heart is through their stomach!'" sophomore Joana Tahiraj said.
Participating Restaurants include Alize, Blue Ribbon Sushi Bar & Grill, and Yolos Mexican Grill. The three course meals will be priced depending on the location and meal. Prices vary from $20.12 to $50.12.
"I plan on visiting a few of the restaurants participating in Restaurant Week. I have been wanting to go to Blue Ribbon Sushi for a while! Why not go when they meals are cheap?!" sophomore Rayden Sisomphou said.
If you would like to enjoy a meal for a low price while supporting a local non-profit, you can visit http://www.helpoutdineoutlv.org/ or contact Three Square at (702)-644-FOOD (3663).