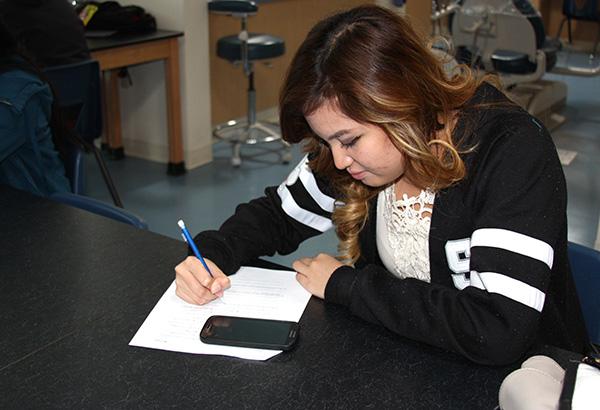 Silver State Schools Credit Union, partnered with KNTV Channel 13, continues to recognize outstanding Las Vegas teens each month. Senior Lichelle Gaerlan was chosen as 'Teen of the Month' for January after being nominated by U.S. History teacher Mr. Pate Thomas.
"I was watching the news one day and it said nominate a teen for the Silver State Credit Union 'Teen of the Month,' so I logged on to the website and entered Lichelle's name in along with a short bio explaining why she deserves to win," Thomas said.
Students must be between the ages of 13 to 19 and a resident of Las Vegas in order to be eligible for the contest. They also cannot be nominated by immediate family members.
"Lichelle Gaerlan is president of Key Club, meaning not only does she lead a club that has over 200 members, but she also does over 50 hours of community service. She displays excellence with her academic achievements and works with the community," Thomas said.
Winners of the contest receive a $100 Visa gift card, as well as a spot in their online photo gallery.
"When I first found out I was really confused because I did not even know what it was and Thomas did not even tell me that he put my name in the contest. After I found out what the contest was about, I was really happy, but not because of the reward, but because my adviser noticed my hard work," Gaerlan said.
Gaerlan was not the first student to receive this recognition. Senior Valerie Cana was previously chosen for the month of October after being nominated by Hospitality and Marketing teacher Mr. Perry Annett.
"I think this contest is a good way to show the communities appreciation for individuals who dedicate time towards improving the community," Gaerlan said.