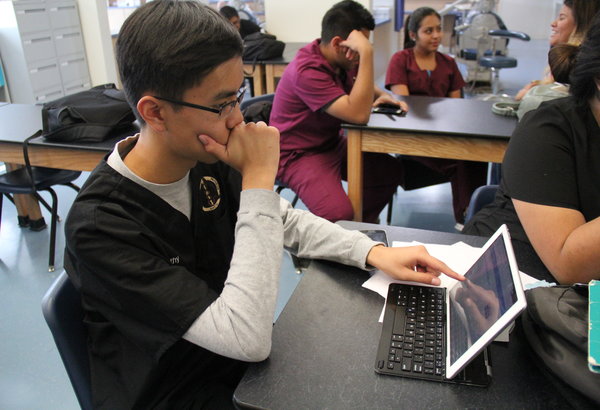 Applications are available for students interested in attending a Magnet School or a Career and Technical Academy (CTA) as of Oct. 27.
"My brother is undecided on which program to choose. He's stuck between Dental and Entertainment Engineering," senior Timothy Phan-Le said.
Applications are accepted from across the valley, however, CTA's only provide transportation to those living in their transportation area. Applicants can either submit their form online or complete it on paper and submit it to their first choice school, or mail it, no later than Jan. 8 at 3 p.m., while late applications will be accepted after the deadline. Paper forms will be available at each school in about two weeks.
"Late applications fall below those in the alternate pool, so the alternate pool needs to be exhausted before we get to the late applications. So, it's important to apply by the deadline," Recruitment Counselor Dr. Lilly Sifuentes said.
All applicants may apply to a maximum of three different magnet schools or CTAs and rank them as first, second or third, depending on which schools they have as their top priorities. All qualified members are then placed in a computerized random lottery.
"If students qualifies for the program and the seats are full then they are placed into alternate pool until a seat becomes available," Lead Counselor Paige DeSantis said.
Qualification will be based on students' first quarter GPA of their eighth grade year, attendance, citizenship and prerequisite classes. Auditions will also be required for students planning to attend the performing art academies of Las Vegas Academy or Del Sol High School.
"There will be approximately 400 students accepted [at SWCTA]. Each program will have 32 to 35 students, excluding Fashion Design. Fashion is a double program that accepts 65 students. Students will be informed what program they have been accepted for by March 9," Sifuentes said.
For any questions or concerns regarding applications, call the Magnet/CTA Department at (702) 799-8492, contact individual Magnet/CTAs or visit the Magnet/CTA website.
"My brother feels like going to a magnet school is the best choice for him, because he wants to experience how working in a certain field would be like before deciding what he wants to major in when it comes time for college," Phan-Le said.