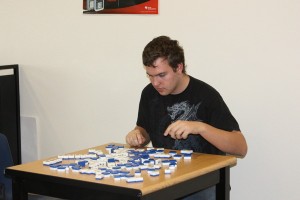 On Nov. 5, Mr. Carl Lane held the second meeting of the school year for the Mahjong Club in his classroom.
"I started the Mahjong Club to add another unique extracurricular activity to the SWCTA roster," Lane said.
The Mahjong Club aims to provide students with a fun opportunity to play this game and membership is simple as just showing up. With an average of 3 to 4 sets of mahjong tiles per game, it is possible for up to 16 students to play at a moment.
"It is definitely a great place for individuals with similar hobbies to challenge one another," senior Flora Shi said.
Mahjong is played with a set of 13 tiles and each player is attempting to complete their required sets in order to win.

Loading ...
"Mahjong Club is actually really fun because it brings my own culture to share it with the other students," senior Donovan Ly said.
Mahjong Club meets every Monday from 2 p.m. to 4 p.m. in Mr. Lane's room.