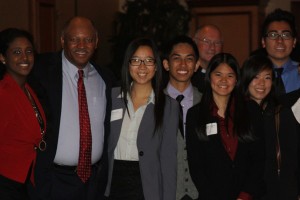 Eight students from each high school in CCSD, including SWCTA, were chosen to attend the annual Mayor's Prayer Breakfast held at the Texas Station on Nov. 15, 2012. Students had the opportunity to ask questions of the mayors and superintendent regarding such topics as the legalization of marijuana in Nevada and Career and Technical Student Organizations (CTSOs).
"This was my second year attending, and I think it was a great experience being able to connect with student and business leaders from around the valley," senior Yuen Ying Ha said.
Students had the opportunity to meet with community leaders representing organizations including the YMCA and the Las Vegas Review-Journal while eating breakfast. The program began with a warm welcome by Co-Founder of Volunteers in Medicine of Southern Nevada Gard Jameson and led to a majority of the mayors reading prayers from different faiths.
"The mayors really established a crucial point by reading the different prayers. They wanted to portray the message that everyone, no matter what religion, can get along well and establish a friendly community together. I really felt the unity when they read the quotes. It was really nice," senior Flora Shi said.

Loading ...
Following these prayers, CCSD Superintendent Dwight D. Jones presented as the keynote speaker for this event, discussing his background and the importance of students leaving a legacy. Las Vegas Mayor Carolyn Goodman and Henderson Mayor Andy Hafen were in attendance.
"I thought it was a lot of fun and that it was a great experience getting to see all the different religions come together as well as all the student leaders, community leaders, and mayors," senior Jessica Wolf said.