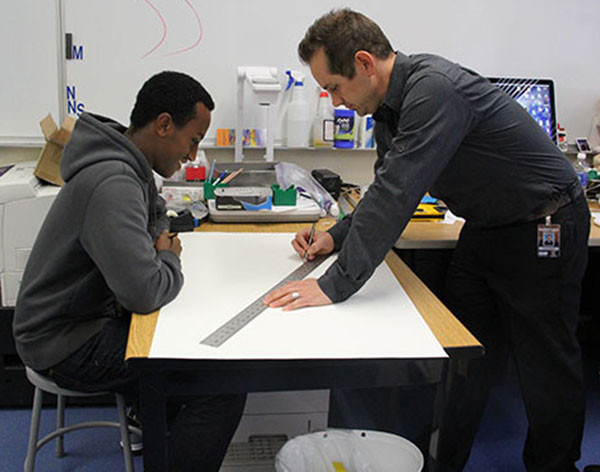 Besides teaching his regular Art I students, Mr. Jared Ogden has been appointed as a mentor  in the Design Academy, teaching students how to sketch designs that will help them as they progress with their program, such as learning to draw perspective and shade.
"I hope students understand the importance of the visual aspect of their designs and projects. I'm mainly just helping to refine that aspect of their projects," Ogden said.
Lessons vary depending upon the program area, and the purpose of the lessons are to refine the visual aspects of their assignments and upcoming projects.
"The main idea here is to make sure students are learning how to make the visual part of their presentations or ideas look appealing and professional," Ogden said.
Currently, students are beginning to learn how to draw and design objects in a three dimensional space using set points to give the illusion of realistic space.
"The lesson helped me to find a new way to sketch a design that will help me get my idea across quicker and more visually appealing," senior Kyle Alcerl said.
Additionally, Ogden is also working with seniors on their capstone projects, working mostly on boosting the overall appearance of the project and perfecting their professional design skills.
"He taught us how to design our senior projects and I got to learn new techniques that will help me with my projects in the future," senior Mehaki Asare said.
Ogden is working mostly with sophomores in Entertainment Engineering, Fashion Design, and Interior Design.
"It's important to get their ideas across visually in terms of their program area where they are needed to present a sketch," Ogden said.