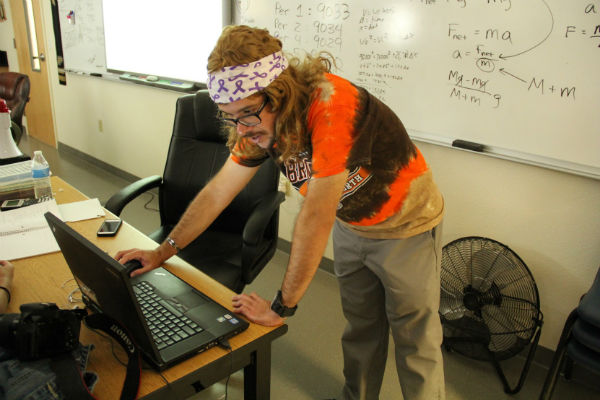 After former Entertainment Engineering Program Leader Mr. Angelo Pappano was transferred to continue his teaching career at Rancho High School, Mr. Joshua Locklear has been selected to fill his position starting Oct. 20.
"I'm going to miss Mr. Locklear so much. He's one of my favorite teachers and it's sad that he's leaving us. The only good thing about it all is that he's right across the hall so we can pretty much visit him all the time," junior Desiree Galera said.
Chosen by Locklear himself, the substitute who will now be instructing the physics course will be Mr. Christopher Price, a former student of Locklear's who graduated from Mojave High School in 2007. Although Price will be teaching the students for the rest of the school year, it has not been determined who will be taking over for the next school year.
"I think the transition is going to go fairly smoothly for both courses. The students in engineering already know me, and Mr. Price is someone I know with a similar personality to mine. I think the students will be able to adapt pretty quickly," Locklear said.
Locklear has a bachelors degree in mechanical engineering and has been involved in the entertainment engineering program since he was first hired. Due to his experience in the field and involvement with the program, Locklear was offered to become the permanent instructor for the program area.
"I've been helping Mr. Pappano with the program since I got here, so it makes it easier because I knew what he was doing. It's going to be a learning experience, but I'm excited and it's something different. It's a new challenge," Locklear said.
In addition, Pappano's reassignment was decided upon by the school district and his last official day was on Oct. 6.
"We all miss Mr. Pappano, but it's nice to be able to get a new teacher that we're already so familiar with. It makes it easier to learn than from a complete stranger or a sub," senior Richard Liu said.