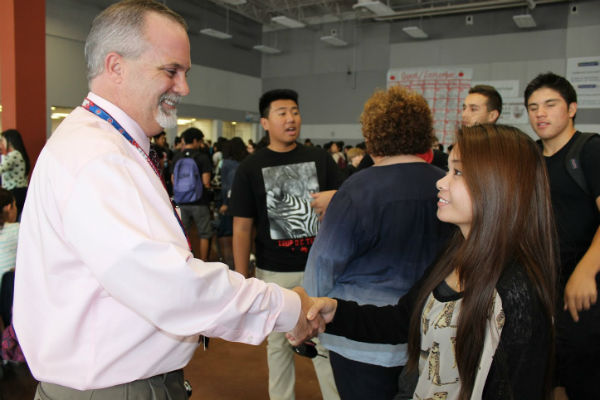 After 21 months, Mr. Michael Butler has returned to fill his former position as assistant principal after fulfilling his duties at the Nevada Learning Academy (NVLA) at Clark County School District (CCSD).
"I'm really excited that Mr. Butler is back because he cares about our education and if we're having a good time. He cares about our high school experience," senior Kendra Walton said.
Butler started as the first assistant principal in 2008 before his promotion to assistant principal at NVLA in 2012. His designation at the online academy required him to create policies for merging Virtual High School (VHS) and the Academy for Individualized Study (AIS) into one learning site for both middle and junior high school students.
"When I was offered the position at Nevada Learning Academy, I was already looking for the next challenge. I accepted the promotion and worked to create policies and more," Butler said.
After the official launch of NVLA on Aug. 18, Butler was transferred back.
"When we launched Nevada Learning Academy, I knew my job was done and I was eager to get back to work and now I'm back. The reception I've received has been so amazing," Butler said.
Now that the position of assistant principal has been fulfilled, the administrative team will now work to hire a new dean to work alongside Dean Trish Taylor. A series of interviews occurred last week and the final decision will be made by a team composed by Principal Donna Levy.
"It is currently an on-going process to get the new dean hired, but hopefully the decision will be made in the next week or two," Levy said.
As an original member of the team that worked to develop career and technical academies, Butler has worked with Principal Levy for the last six years and was featured in the 89144, 89135 and 89138 zip code magazines regarding the development of NVLA.
"I missed working here and I'm glad to be back. My goals this year are to make this place a safe and friendly environment for students and faculty to learn and have fun. I want to give my students the best technological tools," Butler said.