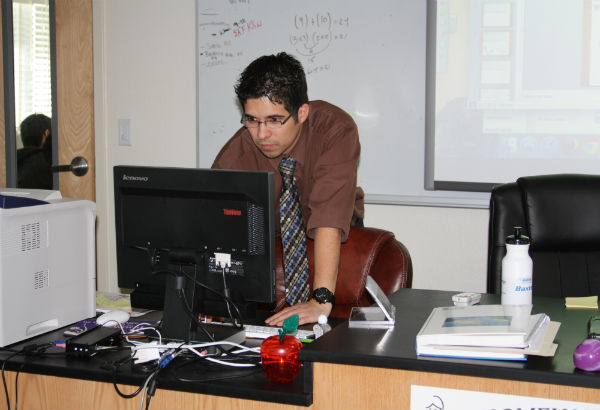 After former physics teacher Mr. Joshua Locklear was selected as the new Entertainment Engineering Program Leader, Mr. Patrick Waddington has now been hired as his permanent replacement, effective Jan. 20.
"Even though I've only had one class with Mr. Waddington, I can already tell that I like the methods he uses for teaching and I feel like the rest of the semester will go well," junior Destiny Wilson said.
Waddington graduated in 2014 with a bachelor's degree in secondary education and physical sciences from University of Nevada, Las Vegas (UNLV).
"Prior to getting my teaching license, I was an instructional assistant for the band program at Cashman Middle School, and I also taught a semester at Valley High School and Green Valley High School," Waddington said.
Waddington applied for the position after discovering an online advertisement to be a permanent physics instructor.
"I took an interview and was introduced to the administration and some of the staff. I also took a tour of the school, and decided that this would be a wonderful place to work, and that I would happily take the job," Waddington said.
To provide his students a hands-on experience with physics, Waddington has planned a 'crash' test lesson.
"During class we went through a PowerPoint explaining Newton's laws of motion and along with that we had to do equations. Mr. Waddington was very helpful with helping students if they didn't understand the concept," junior Adam Rifat said.