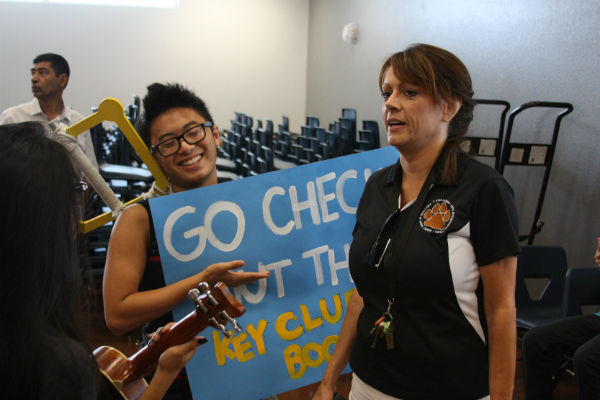 After the promotions of previous Principal Felicia Gonzales and Dean Allen Yee, former Assistant Principal Donna Levy has been appointed as the new principal.
"It is my main goal to maintain the same level of exceptionalism in academics, community, and customer service that the students and their families deserve," Levy said.
Gonzales has been promoted to Assistant Chief Student Achievement Officer and will supervise seven Career and Technical Academies, Eldorado High School, two middle schools and seven elementary schools.
"I am excited for this new challenge, especially since I know I am still tied to SWCTA. I will visit regularly and continue to witness the amazing things happening at school," Gonzales said.
In addition, former Dean Allen Yee has been promoted to assistant principal at West Career and Technical Academy (WCTA).
"I feel good to know that even while I am leaving after a great two years, all the teachers and staff care about the kids and are working to find every opportunity for them to be successful," Yee said.
The positions for assistant principal, dean and others must be filled through the Clark County School District (CCSD) hiring process. The positions will be advertised, applications will be accepted and interviews will occur. Principal Levy will then construct a team to help select the new dean to work alongside Dean Trish Taylor and an assistant principal.
"A new dean will be hired and the administrative team and staff will continue the same expectation of excellence students are accustomed to at SWCTA," Taylor said.
In order to obtain the position for principal, Levy experienced an extensive hiring process that involved a series of interviews and writing tests that would allow her to gain access to the "Principal Pool." After an online application submission and two more sets of interviews, Principal Levy was interviewed by CCSD Superintendent Pat Skorkowsky and Dr. Mike Barton.
"It was a very long and exhausting process that started last spring. I would say that I was pretty thoroughly vetted," Levy said.
Principal Levy has worked with Gonzales for six years and shares the same vision of excellence. She also holds an Apple Distinguished Educator award, a Google Certified Teacher certificate, and designation as an Adobe Educational Leader.
"Mrs. Donna Levy will do a fantastic job in maintaining the consistency that the students deserve, and most importantly, she shares the school's vision of Excellence," Gonzales said.