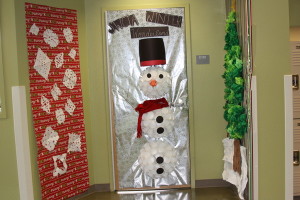 Mentorship classes participated in a school-wide door decorating contest on Dec. 12.
"I am really happy that we won because it is the first time that we actually won something even though it wasn't the best, it still makes us laugh at the end of the day and Mr. Douglas is proud," junior Brian Diaz said.
Mentorship classes were given the last two mentorship sessions to plan. To decorate the door, students and teachers had to bring their own holiday items.
"I think that in the end ours turned out nice, even though we didn't win," junior Cassie Daniels said.
The doors were judged by school administration, based on creativity, teamwork, and theme. The winners are:
Best Use of Calendaring- Mrs. Elena Luaces
Most Informative- Ms. Morena Abrego
Most Life like- Mrs. Sheilah Petrosky
Most Creative – Mrs.Elena Nelson
Most Holiday Spirited – Mrs. Jennifer Conder
Most Likely to Burn the School Down- Mr. Zachary Douglas.

Loading ...
"I think that our door had a lot of humor to it and I think that it is going to be well known now for being humorous," junior Eric Feldman said.