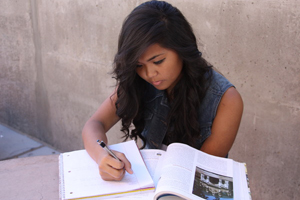 Sophomores, juniors, and seniors at SWCTA have started their National History Day contest project in their social studies classes. Students must choose a topic relating to the NHD theme, "A Turning Point in History."
"The NHD project allows students to participate in social experiences and engage in the discovery of different cultures and the past," World History teacher Ms. Krista Boivie said.
Participants must conduct extensive research through primary and secondary sources in order to build a strong foundation for their project due on November 29th and 30th.  After students have submitted their finished products, they will present it in front of the other participating sophomores, juniors, and seniors.
"My group and I are making a website for the NHD project. We are working extremely hard on this project and whether we win or lose, the experience and knowledge gained from this is all that matters at this point," sophomore Avery Christiansen said.

Loading ...
The students whose project is deemed the best will be eligible for the Kenneth E. Behring National History Day Contest at the University of Maryland at College Park in June 2013. Only the best NHD project winners from across the United States, American Samoa, Guam, International Schools, and Department of Defense Schools in Europe can attend the contest.
"There are more than half a million students participating in this competition, but there may only be one winner. With hard work and dedication, my team and I could be that one winner," junior Anthea Gamiao said.