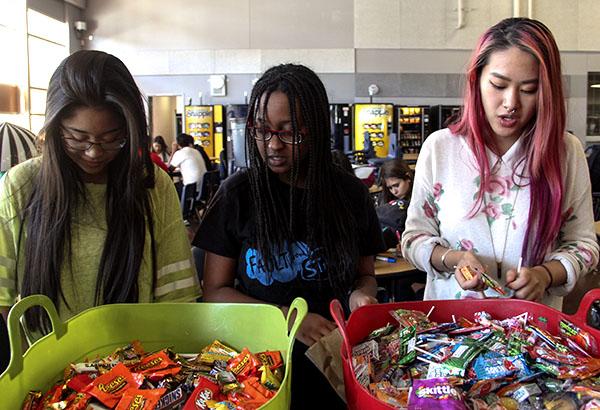 At the chapter meeting on Oct. 23, roughly 80 National Honor Society (NHS) members compiled about 200 trick-or-treat bags containing an assortment of candies and chocolates to donate to The Shade Tree Organization.
"We've been doing this for years, but unfortunately, the members that have had these more memorable experiences have graduated. It really is memorable because some students have actually been to Shade Tree and met these kids and their mothers," NHS Adviser Mrs. Miriya Julian said.
Due to safety concerns involved with living in a domestic violence shelter, the families at the shelter cannot go trick-or-treating. NHS assembles bags filled with treats to deliver to the shelter's families and staff every year at their annual Halloween party.
"The motto of NHS is 'Noblesse Oblige,' which is French for 'Noble Obligation.' This means that it is the obligation for every NHS member to serve their community, and we are serving the local Las Vegas Valley by providing these trick-or-treat bags to kids who wouldn't normally be trick or treating," Julian said.
After creating the bags, the members used the remaining time of the meeting to sit with their committees to discuss and determine future projects for the club.
"This was my first year doing the candy bags and it was such a fun way to bond together as a chapter and provide a service to the community," senior Sibriya Said said.
The next general member event will be the club's five year traditional movie day held before Thanksgiving. The members of the club will be watching the film adaptation of Mockingjay.
"Member events are one of the many things I like about NHS. It makes me feel like I am really involved in the chapter and not just another member," senior Allison Ho said.
The Shade Tree Organization's mission is "to provide safe shelter to homeless and abused women and children in crisis and to offer life-changing services promoting stability, dignity, and self-reliance."
"National Honor Society is built on a solid foundation of leadership and service, and it is our duty as members to fulfill that duty of being a good member in our community. It feels amazing to put a smile on another person's face when they do not have the opportunity to go trick-or-treating," President Tyler Paraiso said.