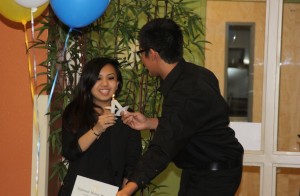 On March 9, 2012, SWCTA's National Honor Society inducted 77 new members into its chapter in a formal induction ceremony held in the Coyote Ballroom. The ceremony began at 5:30 p.m. with a buffet-style asian dinner catered by Harbor Palace. Food options included tofu, chicken, fried rice, noodles, and beef and broccoli.
"The catered food was very popular. The marble cake was delicious," NHS president Steven Lam said.
Following dinner, hosts Arturo Ochoa-Zepeda and Jessica Lacaman introduced various speakers, including Principal Felicia Nemcek, NHS advisor Miriya Julian, and the NHS officer team members.
"I hope the members learned something from all of our speeches so they can become better members of society," secretary Nathalie Saligumba said.
After the speeches that detailed the four tenets of NHS, character, service, leadership, and scholarship, the students, adorned in all black, went to the hall to begin the official induction part. Students were lined up in alphabetical order and called to the stage to sign the official membership book, receive their membership certificate, and collect a candle for the next part of the ceremony.
Once all students received candles and surrounded the room, Julian began the chain of candle-lighting. Parents in attendance took advantage of this time to take photos of their child being inducted into National Honor Society.
Once all candles were lit and blown out, students returned to their dining tables and the 2012-2013 NHS President, Bserat Ghebremicael adjourned the ceremony.
"It feels pretty real that I'm actually going to be president pretty soon. I truly am excited to get the year going with tons of new members and hope that this upcoming year will be more joyful and filled with accomplishments to look back on in future years," Ghebremicael said.